Conveying Machine, in a word, is a kind of machine to convey powder, small particles or granule from one point to another point. There are several different type of conveying machine: From conveying ways, we can distinguish horizontal conveying, inclined conveying and vertical conveyor. From the feeding material continuous ways we can distinguish into: even feeding, batch feeding, volumatic feeding.
For example, conveying machine include:
Flexible Screw Conveyor: Flexible screw conveyor is flexible, allowing a multiple of configurations to suit application requirements. The standard unit consists of an inlet, an outlet, a flexible spiral spring, a PPR hose, a motor and a hopper.
Its design is very simple & eliminates the need for any additional operating equipment such as filters or bearing. It consists of electric motor driven spiral, which is the only moving part, rotates within a food grade & sealed tube.The material moves along the spiral within the tube. The unique action of the flexible Spiral Conveyor eliminates the risk of the product separation that can take place in conventional pneumatic conveying systems where mixed materials have components of different densities and particle size.In fact,the conveying action ensures constant remixing.Conveyor maximum length can be upto 15 meters for material bulk density 0.6 kg/ litre and may be increased or decreased inversely with bulk density.Vertical installation are also possible,but carrying capacity decreases with increase in angle of inclination. Feed hopper is available in standard size or according to customers specification.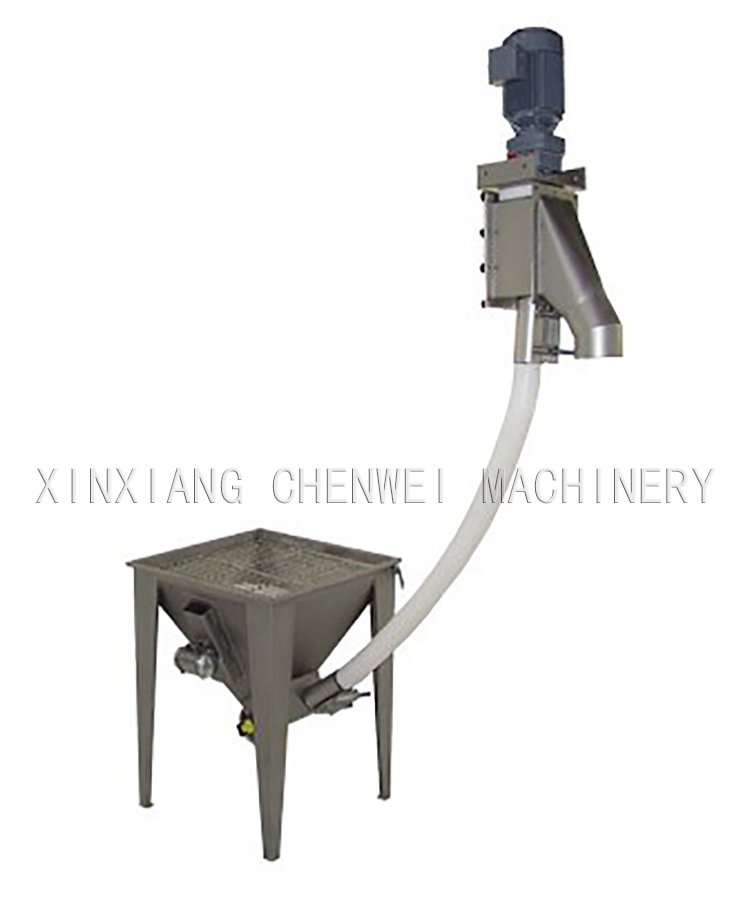 Vacuum Conveyor: The Vacuum conveyor machine can reach the objective that feeding materials with safe and convenient can't cause some dangerous factors for the operators, It mainly consists of vacuum pump(no oil and water),oil and water separator, stainless steel suctiontube, flexible hose, PE filter or SUS316 filter, compressed air cleaning device, pneumatic discharging device, vacuum hopper and automatic level control device. This machine can reach GMP standard and is the ideal feeding to food industry and pharmaceutical industry.

Remarks: we have two kinds of vacuum conveyor machines for electrical vacuum conveyor and Pneumatic Vacuum Conveyor. The working process is almost same, but the electrical vacuum conveyor is replace the vacuum generator for electrical pump. You can choose the vacuum conveyor according to real situation