Product Description
Screw Conveyor is commonly known as auger. It is a kind of conveying equipment widely used in minerals, feed, grain and oil, construction industry. It is made of steel and is used to transport chemical or building materials such as powder or solid particles with higher temperature.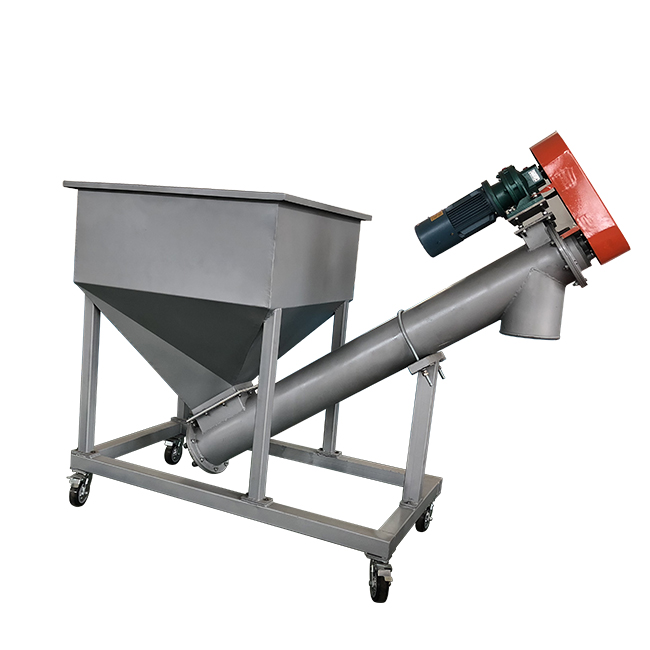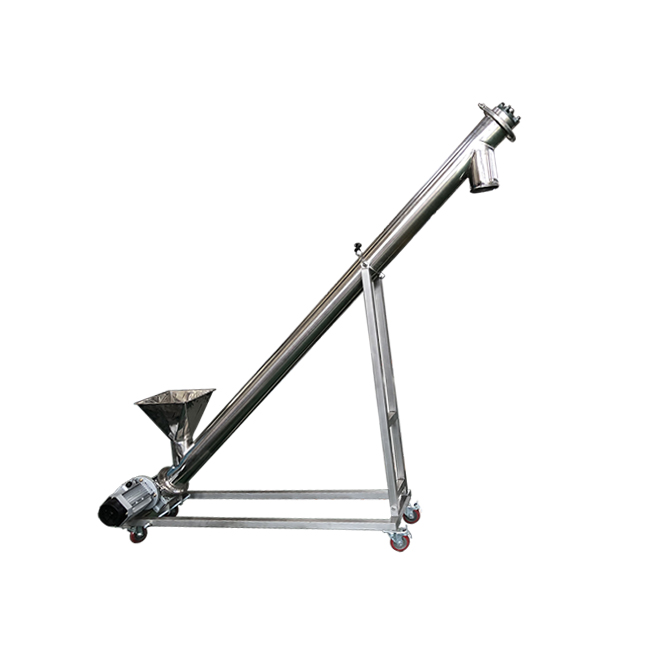 Working process
When the screw shaft rotates, due to the gravity of the material and the friction generated by the wall of the tank, the material can only move forward along the bottom of the conveyor under the pushing of the blade. The rotating screw acts the same as the translational movement. The movement of the material in the intermediate bearing is based on the thrust of the material moving forward. Therefore, the transport of materials in the conveyor is completely a slip motion. In order to make the screw shaft in a more favorable tension state, the driving device and the discharge port are generally placed at the same end of the conveyor, and the feed port is placed as close as possible to the tail of the other end. The rotating spiral blade conveys the material and the force of the material not rotating together with the screw conveyor blade is the weight of the material itself and the frictional resistance of the screw conveyor casing to the material.
Application
Screw conveyors are widely used in various industries, such as building materials, chemicals, electric power, metallurgy, coal charcoal, grain and other industries. They are suitable for conveying powdery, granular and small block materials horizontally or obliquely, such as coal, ash, slag, cement, Grain, etc., the material temperature is less than 200 °C. Screw machines are not suitable for conveying materials that are prone to deterioration, viscous, and agglomerate.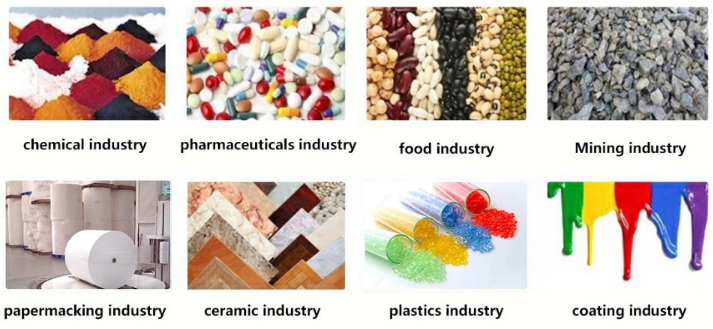 Features
(1) Screw conveyor is a kind of conveying equipment widely used in chemical, building materials, grain and other departments. It is mainly used to transport powdery, granular and small block materials. It is not suitable for conveying materials that are prone to deterioration, viscous and agglomerate.
(2) The ambient temperature used by the screw conveyor is -20~50 °C; the inclination of the conveyor is β≤20°; the conveying length is generally less than 40m, and the longest is not more than 70m.
(3) Compared with other conveying equipment, spiral conveying has the advantages of simple structure, small cross-sectional size, good sealing performance, multi-point loading and unloading in the middle, safe and convenient operation and low manufacturing cost. Its disadvantages are that the parts are worn more seriously, the conveying volume is lower, the power consumption is large, and the materials are easily broken during transportation.
Looking for ideal Screw Conveyor for Food Manufacturer & supplier ? We have a wide selection at great prices to help you get creative. All the Screw Conveyor Low Damage Efficient Grain are quality guaranteed. We are China Origin Factory of Screw Conveyor for Chemical Industry. If you have any question, please feel free to contact us.